... means feeling comfortable and safe on holiday right from the start!
Welcome to the Kirchler family in Tux valleyl!
We have currently closed our hotel and restaurant and we will start serving our guests from mid- may 2021,political decisions permitting!
Your carefree holiday is our top priority. That's why safety and hygiene are paramount and we have taken every precaution to ensure you have a relaxing holiday.

>>Sicher urlauben Covid-19 Infos<<



Info- Details for Tirol on the offical Website Tirol Tourismus https://www.tirol.at/informationen-coronavirus
If you have any further questions about a booking, please do not hesitate to contact us per email or telephone!

Hier können Sie die aktuellen Pauschalangebote gustieren …



Pauschalangebote Sommer-Herbst 2021.pdf925.96 KB

Call us on the telephone number +43528787214 and your holiday can start!
Your Family Kirchler and Crew
---

Sie haben die Berge vermisst?... haben zu Hause am Frühstückstisch davon geträumt ... wir machen Ihren Traum wahr!
Wir verlosen in den Monaten Feber, März, April, Mai und Juni je 1 Gutschein für 1 Gletscher-Gondelfrühstück KLASSIK für 2 Erwachsene im Wert von 59,00 €.

Ein unvergesslicher Gletschertag beginnt mit einem klassischen Gondelfrühstück.
Eine Gondel der 10er Gefrorene Wand wird zur Frühstücksgondel exklusiv für Sie.
Gegondelt wird nach Herzenslust, so lange Sie möchten. Die Gondel ist mit Sitzheizung ausgestattet.
Klassik Frühstück beinhaltet:
Marmelade, Schinken, Zillertaler Bergkäse, Ei und vielen weiteren Köstlichkeiten decken wir Ihren Frühstückstisch in der Gondel.
Details zum Frühstück: >> GONDELFRÜHSTÜCK HINTERTUXER GLETSCHER <<

Der Gewinngutschein versteht sich exklusiv Bergbahnticket.
Der Rechtsweg ist ausgeschlossen, eine Barablöse ist nicht möglich. Der Gondel-Frühstücks-Gutschein wird Ihnen bei Ihrer Anreise überreicht.
Und wenn Sie statt dem Gondelfrühstück lieber bei uns im Gourmetrestaurant dinnieren wollen - auch kein Problem, dann erhalten Sie einfach einen Gourmetgutschein im Wert von 60,- € für unser Restaurant.
---

Was gibt es Schöneres als länger Urlauben und dabei sparen?!

Bei unserem 14 = 12 Bonus können Sie 15% sparen.
Sie genießen 14 Tage Urlaub und zahlen 12 Tage!
Die Anreise ist jederzeit möglich. Dieses Angebot gilt für die reguläre Preisliste aller Zimmer, Ferienwohnungen und Kategorienfür einen Buchungszeitraum von 14 Tagen.

Sie sparen 15% vom 8.5. - 1.11.2021
Jetzt Buchen und sparen!

Diese Angebot ist nicht kombinierbar mit anderen Pauschalen oder Angeboten.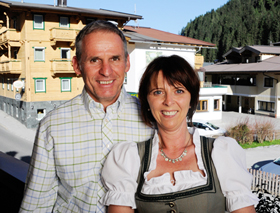 We are looking forward to your visit
Eva Maria Kirchler & Roland Kirchler
Holidays that live up to your expectations enjoy ...

a healthy and energising breakfast buffet

outdoors activities in our still-intact nature, catching fish in a mountain torrent, guided hikes with a nature park guide, or

cross-country skiing right outside the hotel, skiing in close vicinity to the hotel or year-round skiing on the glacier

a stay in one of our comfortable rooms and in a familial atmosphere where you can spend relaxing days

relaxation in our wellness area or on the sunny terrace