Gourmetstüberl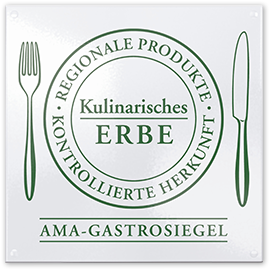 Food lovers and gourmets are in just the right place at Hotel Garni Forelle's Gourmet Dining Lounge.

Head of the house, Roland Kirchler, is passionate about cooking - and you can taste it! The certified AMA Seal of Quality means diners enjoy great food in our restaurant, prepared with predominantly regional ingredients. As one would expect, the fish for our fish dishes is freshly caught from our hotel-owned private waters of the Tuxbach River.

Do something good for your body and live life to the fullest – a principle that is leading increasing numbers of guests to demand wholesome, natural food. No flavour enhancing additives are required anyway for an unforgettably enjoyable experience for the palate and mind!
We have laid a table for you - come and find out for yourself ...
Quality plays an incredibly important factor when it comes to food. It is not always visible to the naked eye, but is crucial for maximum enjoyment.
The AMA Gastro Seal of Quality ensures independent controls and stands for conventionally produced foodstuffs which comply with above-average quality criteria and whose origin is traceable.
Our

chef

Roland

and

team

are

looking

forward

to

pampering

yo

u

again...
Our Restaurant is open daily from 18.00 bis 20.30 pm

Rest day according to the notice!

Seat reservations and one of the 3 G certificates required
Menü des Tages

Klare Rindsuppe mit Gemüse und Hirschfleischknödel 7,30

****
Rahmragout von Tiroler Kalb mit Gemüse, Reis, Salatschüssel 23,-

****
Zwetschenkuchen mit Schlagobers 5,50

3 Gang Menü 34,-

Suppen/Vorspeisen


Klare Rindsuppe mit Gemüse und Hirschfleischknödel 7,30


Klare Rindsuppe mit Gemüse und Hirschfleischknödel 7,30
Schlutzkrapferl gefüllt mit Eierschwammerl oder Graukäse, serviert mit zerlassener Butter und Parmesan 9,80
Gemischer Salatteller 4,90
Grüner Salatteller 4,60



Hauptspeisen



Hüftsteak von Almochsen auf Kürbis und Zucchini, Erdäpfel- Topfenlaibchen 26,-


Gebratener Fenchel mit Zillertaler Almkäse und Paprika Pesto, Salatschüsserl 18,-


Hühnerbrust gefüllt mit Frischkäse auf cremigen Spinat und Erdäpfeltaschen 22,-


Tiroler Gulasch von Almochsen mit Würstel und Gurkerl, Topfenspätzle und Krautsalat 22,-


Cordon bleu von Almschwein mit Petersilienerdäpfel, grüner Salat 23,-


"Surf and turf" von der Bio Pute und Seesaibling auf Erdäpfel- Kohlrabiragout und Erbsencreme 23,50


Hausspezialität
Frischer Saibling gebraten "Müllerin"mit Petersilkartoffel, grüner Salat
je nach Größe 26,- bis 29,-
Nachspeisen


Zwetschenkuchen mit Vanilleeis und Schlagobers 7,50


Nuss - Vanille Parfait mit Marillensorbet 7,90




Allergen Kennzeichnung unserer Speisen erfolgt auf den Menü-/Speisekarte in unserer Gourmetstube.


Gerne servieren wir für Kinder und den kleinen Hunger auch kleinere Portionen!