Gourmetstüberl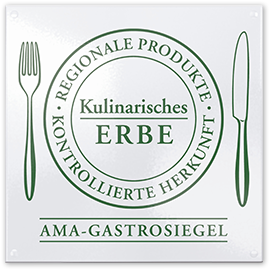 Food lovers and gourmets are in just the right place at Hotel Garni Forelle's Gourmet Dining Lounge.

Head of the house, Roland Kirchler, is passionate about cooking - and you can taste it! The certified AMA Seal of Quality means diners enjoy great food in our restaurant, prepared with predominantly regional ingredients. As one would expect, the fish for our fish dishes is freshly caught from our hotel-owned private waters of the Tuxbach River.

Do something good for your body and live life to the fullest – a principle that is leading increasing numbers of guests to demand wholesome, natural food. No flavour enhancing additives are required anyway for an unforgettably enjoyable experience for the palate and mind!
We have laid a table for you - come and find out for yourself ...
Quality plays an incredibly important factor when it comes to food. It is not always visible to the naked eye, but is crucial for maximum enjoyment.
The AMA Gastro Seal of Quality ensures independent controls and stands for conventionally produced foodstuffs which comply with above-average quality criteria and whose origin is traceable.
Roland and his Team serve seasonal dishes from the Region …
Our Restaurant is open for you from 18.00 to 20.30 hrs
Table reservations required
Soups

Beef broth with herb pancake strips 5,70
Pumkin cream soup with bacon and onions 6,50

Starters
Stuffed pasta "tirolian" with mushrooms, served with butter and parmesan 9,80

Main dishes

Filet of salmlet roasted with herb butter,fregola sardo,mushrooms,green salad 25,-

Escalope of veal " Vienna style" with parsley potatoes, Cranberries,green salad € 24,80
small portion 17,-

Rumpsteak of alpine ox with onion sauce,Grenn beans in bacon,Mmushed potatoes,mixed salad 24,50

Saddle of lamb roasted with potatoe-pumkin cream with paprika and green beans in bacon 25,50
Our Speciality
Fresh samlet roasted with almonds, roasted potatoes with courgettes, green salad
between 25,- bis 30,-
Desserts

Sheeds of puff pastry with Zillertaler Heymilk sour cream sorbet and cranberriesorbet 8,-

Chocolate cake with vanilla ice cream and rasberries 8,-




Allergen Labeling of our food is in the menu ( in the restaurant)

Roland und sein Team serviert saisonales aus der Region …
Unsere Gourmetstube ist von 18.00 bis 20.30 Uhr für Sie geöffnet.
Platzreservierungen erforderlich.
Unsere Speisekarte unterliegt täglichen Veränderungen. Wir versuchen Sie aber so aktuell wie möglich zu halten
Menü

Rindssuppe mit Fritatten 5,50

****
Saltimbocca vom Gourmetschwein mit Tuxer Eierschwammerl,Erdäpfelkroketten,Krautsalat 22,50

****

Honig - Heumilch Sauerrahmmousse mit Sauerkirscheneis 7,-

3-Gang Menü 33,00 Euro

Suppen/Vorspeisen


Rindssuppe mit Fritatten 5,50


Räucherforellenfilet mit Erdäpfelgaletten und Rahmgurken 12,-


Schlutzkrapferl mit Eierschwammerl, serviert mit zerlassener Butter und Parmesan 9,80


Gemischer Salatteller 4,90


Grüner Salatteller 4,60

Hauptspeisen


Lammrücken mit Tiroler Speck auf cremiger Polenta und Ratatouille 25,-


Tagliatelle mit Wildragout,Steinpilzen und Parmesan,grüner Salat 18,-


Rostbraten von der Tiroler Kalbin mit Steinpilzen,Parmesan und Ruccolasalat,Grießblattln 24,50

Maishendl Filet gebraten mit Zucchinischeiben und Rotholzer Ziegencamenbert auf cremiger Polenta 20,50
Hausspezialität


Frische Forellen "Müllerin Art"mit Jungerdäpfel, grüner Salat
je nach Größe 26,- bis 30,-
Nachspeisen



Honig - Heumilch Sauerrahmmousse mit Sauerkirscheis 7,00
Apfelstrudel mit Lavendeleis 5,20




Allergen Kennzeichnung unserer Speisen erfolgt auf den Menü-/Speisekarte in unserer Gourmetstube.

Gerne servieren wir für Kinder und den kleinen Hunger auch kleinere Portionen!